Date: Nov 12, 2023 - Nov 17, 2023
Where: New Orleans, LA
---
About the Event:
Join us in New Orleans for our 80th Annual Convention & Marketplace!
Early Bird Registration
Convention Hotel Registration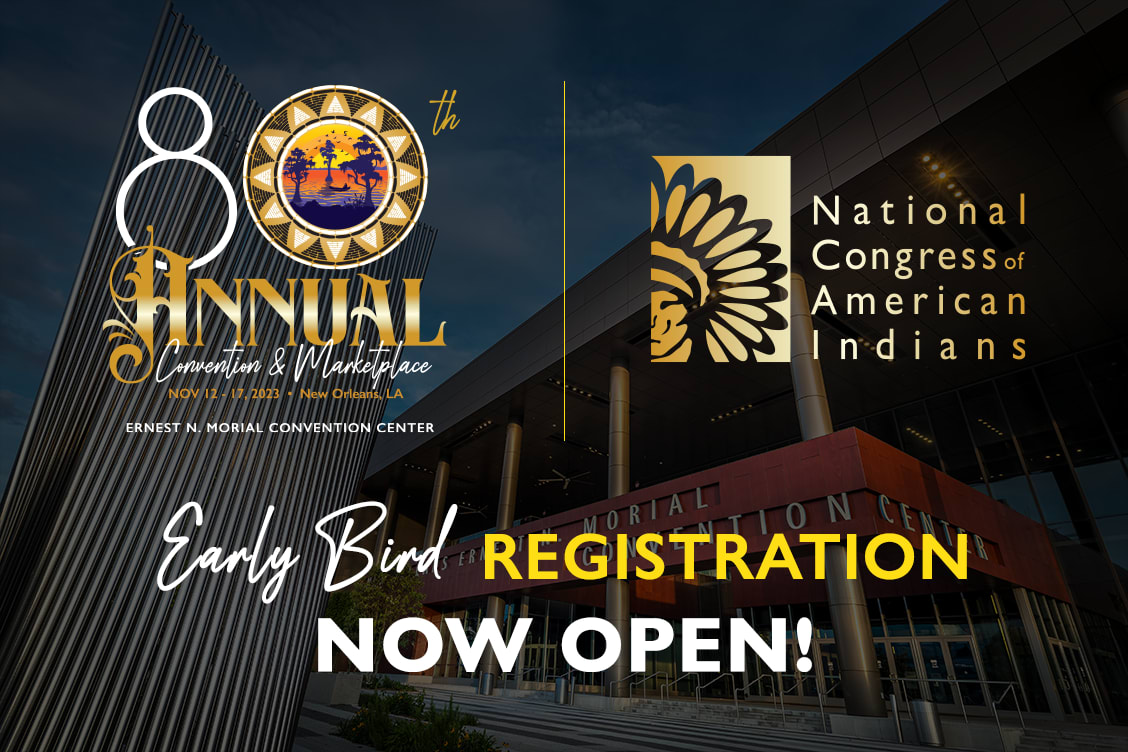 ---
NCAI 80th Annual Convention:
This November, join NCAI in New Orleans, LA, at the Ernest N. Morial Convention Center for the 80th Annual Convention & Marketplace, where attendees will have the opportunity to work collaboratively to protect and advance tribal sovereignty. Tribal leaders, NCAI members, Native youth, and partners from across Indian Country will gather in-person to discuss critical issues, develop strategy, and to embark upon a new era of Nation-to-Nation engagement. Additionally, attendees and the general public will be able to browse the Marketplace, which features a variety of booths ranging from artists to federal job recruiters and much more!
Proposed Constitutional Amendments
The National Congress of American Indians (NCAI) will be hosting its 80th Annual Convention & Marketplace from November 12-17, 2023, in New Orleans, Louisiana. In addition to the typical business of the Congress—including elections of NCAI leadership—the upcoming Convention will include a vote on proposed changes to the NCAI Constitution. Click here to read the NCAI Executive Committee's letter to the NCAI membership regarding these proposed amendments to the NCAI constitution and the processes that will be used to debate and vote on them.

CALL TO VENDORS
Are you interested in being an exhibitor at the NCAI 80th Annual Convention & Marketplace?

CLICK HERE FOR VENDOR REGISTRATION
---
Please join us in supporting the NCAI 80th Annual Convention & Marketplace
The National Congress of American Indians (NCAI), the oldest, largest, and most representative national Native organization in the country, is excited to announce its 80th Annual Convention & Marketplace. By aligning your brand or organization with this seminal event, you are not merely supporting a convention but advancing the sovereign rights and self-determination of Tribal Nations across the country. This is an unparalleled opportunity to enact meaningful change while elevating your organizational profile within and beyond Native communities.
During this crucial gathering, delegates deliberate on urgent issues in line with their respective governments' policies, goals, and needs. Resolutions are voted on and passed to establish NCAI's stance on a myriad of significant matters. By sponsoring the Annual Convention, your organization not only gains visibility, but also becomes an integral part of this democratic process. Your sponsorship amplifies these voices and helps turn resolutions into actionable change.
In essence, your financial support transcends conventional sponsorship; it becomes a robust endorsement of tribal governance and self-determination. You're not merely contributing to an event but actively participating in
a collective movement that shapes policies and impacts lives across Native communities.